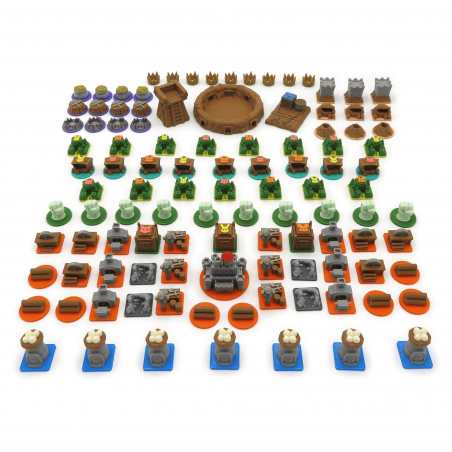  
Full Upgrade kit for Root - 108 pieces
This is our most complete kit for Root™ containing the base pack plus the components for the Riverfolk and Underworld expansions (8 factions). Each piece has the same base size as the original tile that is meant to replace for a perfect fit. 108 quality 3D tokens for an enhanced gaming experience in the Root™ Forest!
This set does not include tokens for the Marauder Expansion. If you are also looking for them please check the specific Upgrade Kit for The Marauder Expansion, Hirelings and Landmarks Pack.
Contents (108 pieces):
· Marquise de Cat (27):
1 Keep building
6 Workshop buildings
6 Sawmill buildings
6 Recruiter buildings
8 Wood tokens
· Eyrie Dynasties (7):
7 Roost buildings
· Woodland Alliance (13):
10 Sympathy tokens (fist)
1 Fox base building
1 Rabbit base building
1 Mouse base building
· Vagabond (4):
4 Ruin Tokens
 · Riverfolk company (9):
3 Fox trade posts
3 Rabbit trade posts
3 Mouse trade posts
· The Lizard Cult (15):
5 Fox gardens
5 Rabbit gardens
5 Mouse gardens
· The Underground Duchy (19):
3 Citadels
3 Markets
3 Tunnels
1 Burrow
9 Duchy Pieces - Crowns
· The Corvid Conspiracy (12):
4 Extortion tokens
4 Raid tokens
4 Snares
· Extras (2):
1 Ferry
1 Tower
---
Made by BGExpansions.
Material: Bioplastic (PLA). The plastic used in this product is made from renewable, vegetable resources. It is biodegradable, environmentally friendly and sustainable.
---
This is an unofficial premium accessory developed by BGExpansions and compatible with Root™.  All product names are trademarks of their respective owners, which are not associated or related to BGExpansions in any way.
Safety information: Choking hazard. This product is NOT a toy. It contains small parts and is not suitable for children under 14. Keep it away from them.
Secure payment by credit card or PayPal.
Free shipping over 80€ (European Union), 100€ (US / North America) and 175€ (rest of the world)
Returns accepted within 15 days of receipt.
Customers who bought this product also bought: