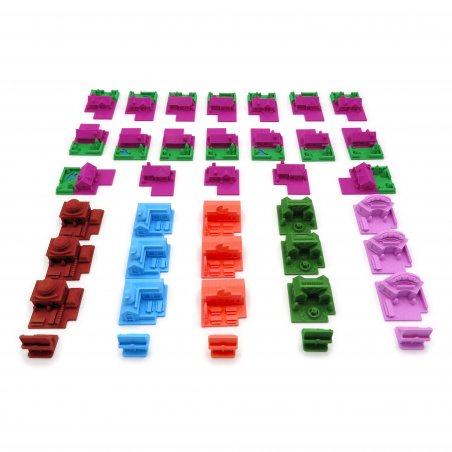  
Upgrade Kit for Food Chain Magnate - 55 Pieces
Upgrade kit for Food Chain Magnate™, with unique and dedicated designs for each type of restaurant, two different house and garden models that can be easily combined and billboard stands to hold the original cardboards, this is the perfect set to build your fast food empire!
The restaurant tiles have a mark on one corner to indicate the entrance. Houses have a space too so the number in the board can be seen. 
This set is for the base game. If you are also looking for components for the expansion please check the Upgrade Kit for The Ketchup Mechanism & Other Ideas - Food Chain Magnate™.
Contents (55 pieces)
 · Restaurants (15):
3 Red (burger)
3 Blue (duck)
3 Orange (pizza)
3 Green (blues)
3 Pink (fried)
 · Houses (19):
Two different designs in random quantities.
 · Gardens (16):
Two different designs in random quantities.
 · Billboard Stands (5):
1 red, 1 blue, 1 orange, 1 green and 1 pink.
Note: Original game pieces NOT included, they appear in the pictures for illustration purposes only.
---
Made by BGExpansions
Material: Bioplastic (PLA). The plastic used in this product is made from renewable, vegetable resources. It is biodegradable, environmentally friendly and sustainable.
Dimensions:
Billboard stands: 1.8 x 1.8 x 2 cm
Restaurants: 3.5 x 3.5 x 2.5 cm
Houses: 3.5 x 3.5 x 1.7 cm
Gardens: 3.5 x 1.7 x 1.3 cm
Please note that these pieces have irregular shapes. Dimensions are approximate.
This is an unofficial premium accessory developed by BGExpansions and compatible with Food Chain Magnate™.  All product names are trademarks of their respective owners, which are not associated or related to BGExpansions in any way.
Safety information: Choking hazard. This product is NOT a toy. It contains small parts and is not suitable for children under 14. Keep it away from them.
Secure payment by credit card or PayPal.
Free shipping over 80€ (European Union), 100€ (US / North America) and 175€ (rest of the world)
Returns accepted within 15 days of receipt.
Customers who bought this product also bought: