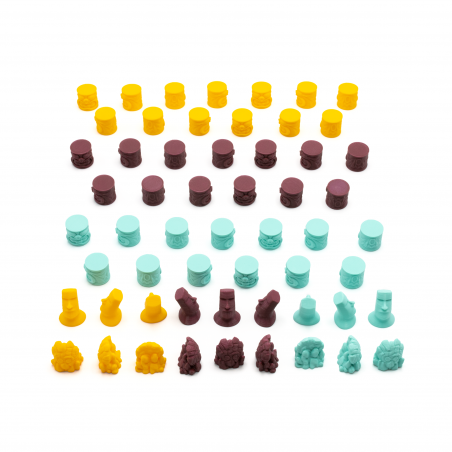  
Player Upgrade Kit for Horizons of Spirit Island - 57 Pieces
3 Player upgrade kit for Horizons of Spirit Island™, with detailed spirit presence tokens and single-turn effect markers in 3 colors: cyan, yellow and purple.
The time for the natural world spirits to protect the dahan and their island has come!
Contents (57 pieces):
39 Spirit Presence Tokens (13 of each color)
18 Turn Effect Tokens (3 head sculptures and 3 stone masks of each color)
---
Made by BGExpansions.
Material: Bioplastic (PLA). The plastic used in this product is made from renewable, vegetable resources. It is biodegradable, environmentally friendly and sustainable.
Dimensions:
Spirit presence marker: 1.5 x 1.5 x 1.4 cm
Head sculpture (turn effect marker): 1.5 x 1.4 x 2.1 cm
Stone mask (turn effect marker): 1.7 x 1.3 x 1.8 cm
Please note that these pieces have irregular shapes. Dimensions are approximate.
This is an unofficial premium accessory developed by BGExpansions and compatible with Horizons of Spirit Island™ board game.  All product names are trademarks of their respective owners, which are not associated or related to BGExpansions in any way.
Safety information: Choking hazard. This product is NOT a toy. It contains small parts and is not suitable for children under 14. Keep it away from them.
Secure payment by credit card or PayPal.
Free shipping over 80€ (European Union), 100€ (US / North America) and 175€ (rest of the world)
Returns accepted within 15 days of receipt.
Customers who bought this product also bought: