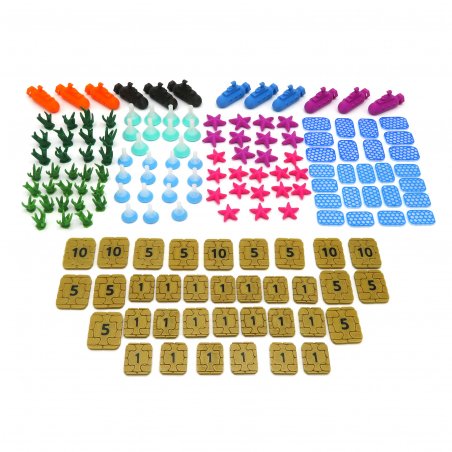  
Upgrade kit for Underwater Cities - 147 pieces
This is our most complete kit for Underwater Cities™, containing resource tokens, submarine action markers and credit tokens. This set includes more resource tokens than the original game!
Contents (147 pieces):
 · Resource tokens (100):
15 Biomatter value 1
10 Biomatter value 3
15 Kelp value 1
10 Kelp value 3
15 Steelplast value 1
10 Steelplast value 3
15 Science value 1
10 Science value 3
· Submarine action markers (12):
3 Orange submarines
3 Blue submarines
3 Black Submarines
3 Purple Submarines
· Credit tokens (35):
20 Value 1 credit tokens
10 Value 5 credit tokens
5 Value 10 credit tokens
---
Made by BGExpansions.
Material: Bioplastic (PLA). The plastic used in this product is made from renewable, vegetable resources. It is biodegradable, environmentally friendly and sustainable.
---
This is an unofficial premium accessory developed by BGExpansions and compatible with Underwater Cities™.  All product names are trademarks of their respective owners, which are not associated or related to BGExpansions in any way.
Safety information: Choking hazard. This product is NOT a toy. It contains small parts and is not suitable for children under 14. Keep it away from them.
This product is now being stocked by Meeple Source, located in the United States. If you live in the US or Canada you may consider ordering from them.
Secure payment by credit card or PayPal.
Free shipping over 80€ (European Union), 100€ (US / North America) and 175€ (rest of the world)
Returns accepted within 15 days of receipt.
Customers who bought this product also bought: