 
Upgrade tokensx112 - Underwater Cities
Delivered within 3-5 days
Content:
12x Submarine figure compatible with Underwater Cities action tiles.
15 x Biomatter tokens value 1
10 x Biomatter tokens value 3
15 x Kelp tokens value 1 
10 x Kelp tokens value 3
15 x Steelplast token value 1
10 x Steelplast token value 3
15 x Science token value 1
10x Science token value 3
Note: This pack includes more tokens than the Underwater Cities, so you never run out of tokens again
This product is now being stocked by Meeple Source, located in the United States. If you live in the US or Canada you may consider ordering from them.
Secure payment by Credit Card or PayPal.

Free shipping over 80€ (Europe), 100€ (United States - North America) and 150€ (rest of the world).

Returns accepted within 15 days of receipt.
In Underwater Cities, which takes about 30-45 minutes per players, players represent the most powerful brains in the world, brains nominated due to the overpopulation of Earth to establish the best and most livable underwater areas possible.
The main principle of the game is card placement. Three colored cards are placed along the edge of the main board into 3 x 5 slots, which are also colored. Ideally players can place cards into slots of the same color. Then they can take both actions and advantages: the action depicted in the slot on the main board and also the advantage of the card. Actions and advantages can allow players to intake raw materials; to build and upgrade city domes, tunnels and production buildings such as farms, desalination devices and laboratories in their personal underwater area; to move their marker on the initiative track (which is important for player order in the next turn); to activate the player's "A-cards"; and to collect cards, both special ones and basic ones that allow for better decision possibilities during gameplay.
You might also like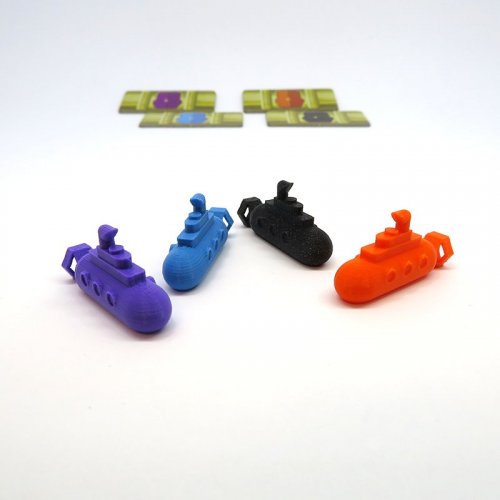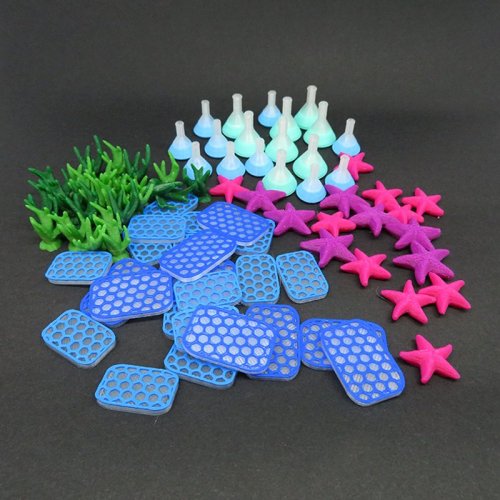 Customers who bought this product also bought: