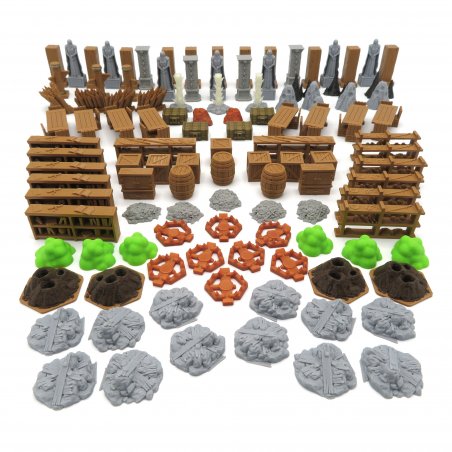  
Full Scenery Pack for Jaws of the Lion - Gloomhaven - 114 Pieces
Scenery upgrade kit for Gloomhaven™: Jaws of the Lion. With 114 detailed scenery pieces for the best gaming experience.
Made with awesome components to recreate the looks of materials such as stone, wood, metal and many more. The barricade tokens can be combined to make bigger barricades and the mystic totems glow in the dark!
Contents (114 pieces):
 · Furniture (38):
8 Tables, 7 Crates, 6 Bookcases, 6 Shelves, 4 Golden Chests, 3 Barrels, 2 Cabinets and 2 Weapon Shelves.
· Totems and Pillars (21):
11 Wooden Pillars, 4 Stone PIllars, 3 Mystic Totems, 3 Training Totems.
· Traps (14):
8 Bear Traps and 6 Poison Traps.
· Other (41):
12 Destroyed Obstacles, 7 Statues, 5 Rubble Tokens, 4 Barricades, 4 Rat Nests, 4 Summoning Stones, 3 Stalagmites and 2 1-Hex Boulders.
Note: Game mat and original components NOT included, they appear in the pictures for illustration purposes only.
---
Made by BGExpansions (with third party designs).
Material: Bioplastic (PLA). The plastic used in this product is made from renewable, vegetable resources. It is biodegradable, environmentally friendly and sustainable.
Token designs by Jon Robelia, Markus Kothe, Sinar, SoCalSteve, and Tobyn Manthorpe under CC Attribution Licenses.
---
This is an unofficial premium accessory developed by BGExpansions and compatible with Gloomhaven™: Jaws of the Lion.  All product names are trademarks of their respective owners, which are not associated or related to BGExpansions in any way.
Safety information: Choking hazard. This product is NOT a toy. It contains small parts and is not suitable for children under 14. Keep it away from them.
Data sheet
Designer

Jon Robelia
Markus Kothe
Sinar
SoCalSteve
Tobyn Manthorpe

License

CC Atributtion
CC Atributtion Share Alike

License link

https://www.thingiverse.com/Herrigold/about
https://www.thingiverse.com/RobagoN
https://www.thingiverse.com/Sinar/about
https://www.thingiverse.com/SoCalSteve
https://www.thingiverse.com/daandruff/about
Secure payment by credit card or PayPal.
Free shipping over 80€ (European Union), 100€ (US / North America) and 175€ (rest of the world)
Returns accepted within 15 days of receipt.
Customers who bought this product also bought: