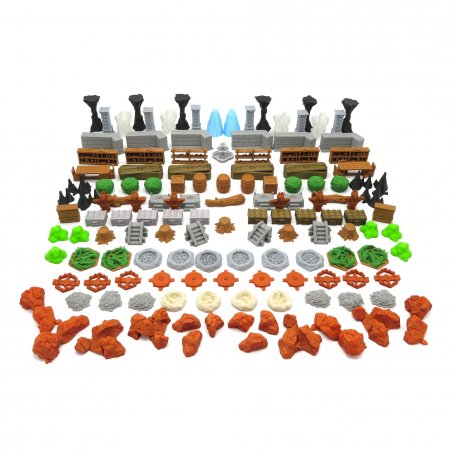  
Full Scenery Pack for Gloomhaven - 139 pieces
This is our most complete upgrade kit for Gloomhaven™, containing the Building, Furniture, Nature, Trap and Extras Packs with a total of 139 high quality scenery pieces for the best gaming experience.
Contents (139 pieces):
 · Building Pack (21):
6 Wall Sections, 6 Stone Pillars, 4 Stairs, 4 Altars and 1 Fountain.
· Furniture Pack (25):
5 Gold Chests, 5 Silver Chests, 4 Bookcases, 3 Barrels, 2 Cabinets, 2 Shelves, 2 Tables and 2 Crates.
· Nature Pack (42):
6 Bushes, 14 Boulders (1, 2, 3 hex), 6 Stalagmites, 6 Rock Columns, 5 Stumps, 3 Logs, 2 Glacier Ice Stones.
· Traps Pack (27):
6 Poison Traps, 6 Spike Traps, 6 Bear Traps, 5 Land Mines, 4 Thorn Traps.
· Extras pack (24):
6 Totems, 6 Rubble Tokens, 4 Fog Tokens, 4 Nests, 4 Sarcophaguses.
---
Made by BGExpansions (third party designs).
This set includes a lot of different pieces and we use only the best materials to make it. The result is a high quality, detail oriented collection of scenery accessories recreating the looks of different materials such as stone, wood, marble, metal, ice, fog and many more!
Also compatible with other RPG games like Dungeons and Dragons™
Material: Bioplastic (PLA). The plastic used in this product is made from renewable, vegetable resources. It is biodegradable, environmentally friendly and sustainable.
Token designs by Jon Robelia, Markus Kothe, Sinar, SoCalSteve, and Tobyn Manthorpe under CC Attribution Licenses.
---
This is an unofficial premium accessory developed by BGExpansions and compatible with Gloomhaven™ and Dungeons and Dragons™.  All product names are trademarks of their respective owners, which are not associated or related to BGExpansions in any way.
This product is now being stocked by Meeple Source, located in the United States. If you live in the US or Canada you may consider ordering from them.
Safety information: Choking hazard. This product is NOT a toy. It contains small parts and is not suitable for children under 14. Keep it away from them.
Data sheet
Designer

Jon Robelia
Markus Kothe
Sinar
SoCalSteve
Tobyn Manthorpe

License

CC Atributtion
CC Atributtion Share Alike

License link

https://www.thingiverse.com/Herrigold/about
https://www.thingiverse.com/RobagoN
https://www.thingiverse.com/Sinar/about
https://www.thingiverse.com/SoCalSteve
https://www.thingiverse.com/daandruff/about
Secure payment by credit card or PayPal.
Free shipping over 80€ (European Union), 100€ (US / North America) and 175€ (rest of the world)
Returns accepted within 15 days of receipt.
Customers who bought this product also bought: