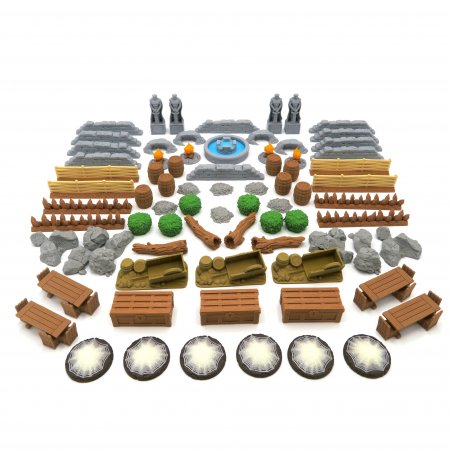  
Full Scenery Pack for Journeys in Middle Earth (LOTR) - 77 Pieces
This is our most complete upgrade kit for Lord of the Rings: Journeys in Middle Earth™. A collection of detailed scenery tokens to play the base game plus the Shadowed Paths™ and Spreading War™ expansions. Made with high quality materials for the best gaming experience.
Contents (77 pieces):
 · Tokens for the base game (42):
10 Wall tokens
8 Barrels
4 Tables
6 Bushes
6 Boulders
4 Statues
4 Fire Pits
 · Tokens for the Shadowed Paths™ expansion (20):
6 Rubble tokens
6 Spider web tokens
4 Elevation tokens
4 Logs
 · Tokens for the Spreading War™ expansion (15):
4 Trenches
4 Fences
3 Barricades
3 Chests
1 Fountain
Note: Game mat and character original figures NOT included. They appear in the pictures for illustration purposes only.
---
Made by BGExpansions.
Material: Bioplastic (PLA). The plastic used in this product is made from renewable, vegetable resources. It is biodegradable, environmentally friendly and sustainable.
Table, bush and barrel token designs by Jon Robelia under CC Attribution Licenses.
---
This is an unofficial premium accessory developed by BGExpansions and compatible with Lord of the Rings: Journeys in Middle Earth™.  All product names are trademarks of their respective owners, which are not associated or related to BGExpansions in any way.
Safety information: Choking hazard. This product is NOT a toy. It contains small parts and is not suitable for children under 14. Keep it away from them.
Secure payment by credit card or PayPal.
Free shipping over 80€ (European Union), 100€ (US / North America) and 175€ (rest of the world)
Returns accepted within 15 days of receipt.
Customers who bought this product also bought: